The 10 Best Bars in La Jolla, CA
La Jolla is definitely is one of the most beautiful places in San Diego with some of the best beaches in the city. We know nothing goes better with a beautiful location than some trendy places to have a cocktail. That's why we've curated this list of the best bars in La Jolla. As La Jolla local residents we have personally had our fair share of fun at all these places and we hope you will enjoy them as much as we did!
1. Manhattan of La Jolla
Manhattan of La Jolla is off the beaten path from La Jolla cove, but is offers one of the best restaurant bars in the area. The restaurant offers exquisite New York style Italian steak and seafood. The best part of Manhattan of La Jolla is hands down the live jazz music. It offers an incredible ambiance and is the perfect bar for upscale date nights. Live Music can be heard Thursday-Saturday.
Location: 7766 Fay Avenue
Hours: DINE IN Sunday, Wednesday and Thursday 5:00pm – 9:00pm and Friday and Saturday 5:00pm – 10:00pm
2. George's at the cove: Level2
George's at the Cove has one of the best restaurant views in La Jolla from its' Ocean View Terrace restaurant, but few people know about the cocktail bar one level lower, aptly named Level2. Level2 offers the same dinner and lunch menu as Ocean View Terrace but with it's own unique cocktail menu you can't find within the other George's restaurants. Get their happy hour specials Monday-Friday 2pm-6pm.
Location: 1250 Prospect St. La Jolla CA
Hours: 11am – 9pm
3. We olive
While there's definitely some great secret spots on this list, We Olive is for sure the best kept gem in La Jolla Cove. Hidden within the back of a storefront, the We Olive Wine bar has great prices and great views of La Jolla Cove. Seating is first come, first serve on their back patio. They serve decadent appetizers and charcuterie boards to pair with the perfect bottle of wine.
Location: 1158 Prospect Street.La Jolla, CA. 92037
Hours:
Monday:  CLOSED
Tuesday – Thursday: 11:00 AM – 7:00PM
Friday & Saturday: 11:00 AM – 9:00 PM
Sunday: 12:00 PM – 8:00 PM
4. Ciao Ciao Piadina
This Italian Wine Bar has seriously good vibes. Ciao Ciao Piadina is a newer bar to the La Jolla area further within the village. Primarily known for their wine spritzers and small bite pairings, this bar is the perfect place to grab a fun refreshment after a day at the beach down the block.
Location: 510 Pearl Street La Jolla, California 92037
Hours:
Tuesday-Saturday: 11am – 9pm
Sunday: 11am – 4pm
Monday: Closed
5. Nine-ten
Nine-Ten located in the Grande Colonial Hotel offers a beautifully contemporary atmosphere. This upscale bar is frequented by the 'who's-who' of the La Jolla elite. Food service comes from their Michelin star kitchen to pair with fantastic cocktails.
Location: 910 Prospect St, La Jolla, CA 92037
Hours: Wednesday – Sunday, 11:30 am to 9 pm
6. LJ Crafted Wines
LJ crafted Winery and Tasting Room offers Wine distilled in their urban winery here in La Jolla CA. The owners, originally from Cape Town South Africa, have a long history in the Wine industry and opened their own La Jolla space in 2015. This small tasting room is absolutely stunning. The modern glass fixtures combined with rustic accents create a beautiful ambiance for a lovely night of wine tasting.
Location: 5621 La Jolla Blvd, La Jolla, CA 92037
Hours: 4pm- 8:30pm
7. La sala Lounge
Nestled within the Hotel La Valencia in La Jolla Cove this lobby bar is truly a hidden gem. With beautiful contemporary seating and stunning views of the ocean this is a can't miss destination for a night out on the cove. Elevated cocktails and signature appetizers complete a luxury menu for a refined pallet.
Location: La Valencia Hotel 1132 Prospect St,La Jolla, California 92037
Hours: Daily | 7:00am – 9:00pm
8. Nautilus tavern
Self proclaimed as 'La Jolla's Only Sports Bar', Nautilus Tavern is a great place to grab a beer and a burger. Closer to the Windansea area of La Jolla, Nautilus Tavern is a great place to grab a drink after a day at the beach or surfing. Fun indoor and outdoor areas make this bar the perfect place to hit up with friends.
Location: 6830 La Jolla Blvd #103La Jolla, CA 92037
Hours:
MON, TUE, WED, THUR, FRI 11:00 AM – 11:00 PM
SUN, SAT 9:00 AM – 11:00 PM
9. Hennessey's Tavern
Hennessey's is a great hole in the wall bar and grill. There have been many times I've walked past and it always has such a fun upbeat atmosphere. They have lots of outdoor seating, and often have live bands playing on the weekends. If you're looking for a bar to dance at this is the perfect place in La Jolla. Enjoy $5 drinks during happy hour every weekday from 2pm to 7pm.
Location: 7811 Herschel Ave, La Jolla, CA 92037
Hours: Open Daily | 11am-2am
10. The shack Bar & Grill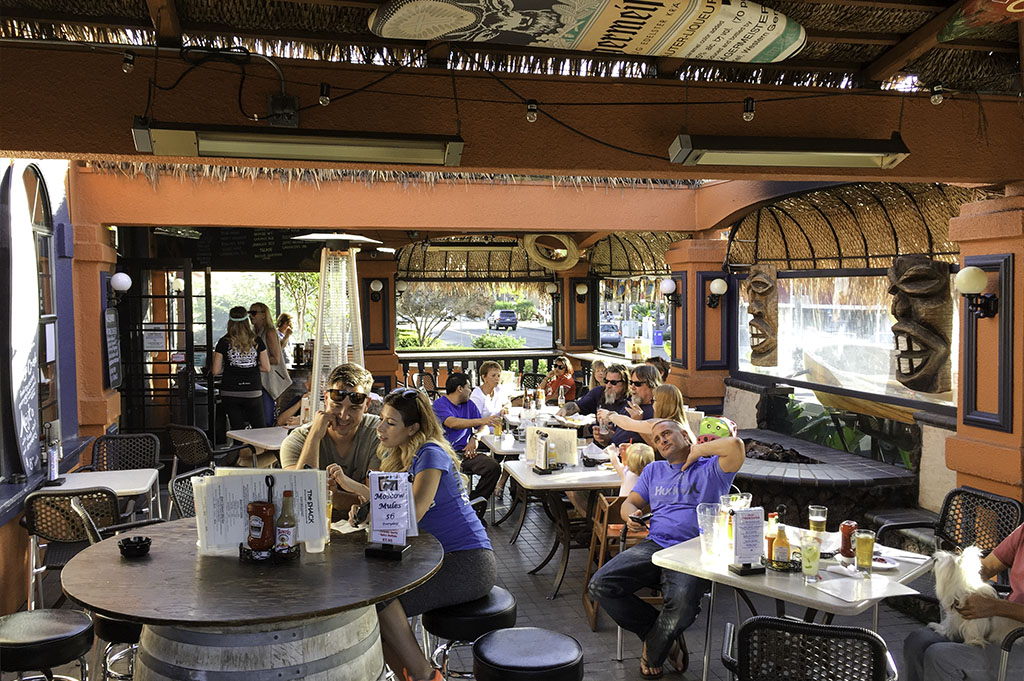 Just steps away from Windansea beach, The Shack Bar and Grill is a seriously good time. Good food, good drinks, and a good time is the best way to spend a sunny day in La Jolla. With quirky interior and lots of space the Shack is the perfect bar for large parties. This is usually where you will find all the local surfers from Windansea beach hanging out as well. They also offer pool tables and great happy hour specials.
Location: 6941 La Jolla Blvd, La Jolla, CA 92037
Hours: Daily | 11:30am to 2am
Loved this article? Check out our list of the best restraunts in San Diego with the best views!
La Jolla Bar FAQ
How much is the price of a cocktail in La Jolla?
Cocktail prices will vary in La Jolla, but you can expect to pay between $5-$15 depending on time of day and location. Make sure to ask about drink specials as many La Jolla bars offer great deals daily!
Is there free parking for La Jolla bars?
Yes, free parking will be accessible for most La Jolla bars. There will be free parking in most of the neighborhoods surrounding the bars in La Jolla. If you are heading down to a bar in the cove depending on the day of the week, it may be harder to find a spot, but pay lots are also available if needed.