The 10 best Restaurants in San Diego with Incredible Views For 2022
Excellent food isn't the only aspect of an incredible dining experience. We know if you want the full package you want an ambience to match a delicious meal. The great thing about San Diego is many restaurants have some of the most stunning views in the entire California coast. We have personally dined at all these locations and were absolutely blown away by both the food and the views. From cityscapes to ocean views our list everything you could look for when it comes to the full dining experience.
1. The marine room
The Marine Room tops this list of the most scenic restaurants in San Diego. Enjoy Delicious California Modern steak and seafood while watching the waves below the dining room. On occasional high tides waves will crash up on the dining room windows creating a truly amazing experience.
Location: 2000 Spindrift Dr.
2.Mister A's
Within the heart of the city of San Diego's downtown you can find this incredible view from Mister A's. This restaurant offers fine dining options fit for a king of luxury. Mister A's has the reputation of the one of the best steakhouses in San Diego, and boasts an impressive 4.8 star rating on OpenTable at time of writing. Mister A's in our opinion is the best of both worlds when it comes to both a city view and waterfront view.
Location: 2550 Fifth Avenue Twelfth Floor, San Diego, CA 92103
3. Top of the market
Elegant Seafood overlooking the northern end of the San Diego harbor doesn't get much better than next restaurant on our list: Top of the Market. The Top of the Market restaurant is located in the historic Gaslamp Quarter of San Diego, California. The building was originally built as a hotel and later converted to a restaurant in 1936. It has outstanding views of San Diego Bay and Point Loma from its floor-to-ceiling windows. Pictured above is their rooftop dining option, but there is also indoor dining with the same great views of the harbor one floor below.
Location: 750 North Harbor Drive San Diego, CA 92132
4. Eddie V's
La Jolla Cove's best fine dining restaurant is hands down Eddie V's. The dining room is beautiful inside and out. Overlooking the La Jolla coastline with some of the best beaches in San Diego, you can be sure to spot a dolphin or two. Craft cocktails and wine pair perfectly with this beautiful dining experience.
Location: 1270 Prospect St, La Jolla, CA 92037
5. pacific coast grill
One of the few restaurants that sits directly on the sand of the Pacific Coast, Pacific Coast Grill is a great spot to have an anniversary dinner watching the sun set over the ocean.
The Pacific Coast Restaurant is a great place to go if you are looking for views. The restaurant has a set of windows that overlook the ocean and this provides an amazing view of the coast from the restaurant.
The food is also really good. They have a lot of different dishes that are all really tasty and they have a great selection of wines as well so you can pair your meal with wine if you want to.
Be sure to be ready to valet your car as this restaurant is directly off of PCH with no individual parking lot.
Location:  2526 S. Coast Hwy 101 Cardiff, CA
6. A.R. Valentien at the lodge torrey pines
The A.R. Valentien looks over the famous Torrey Pines Golf Course and cliffs. Nothing beats looking out over the freshly lowed pristine grass of the Torrey Pines course and getting views of crystal blue La Jolla water. Not only are the views exceptional, but so is the food. Chef Jeff Jackson is one of the early pioneers of farm to table in San Diego. A.R. Valentien has a custom built outdoor wood fired oven that creates some of the best fall off the bone meat you could ask for.
Location:  11480 N Torrey Pines Rd, La Jolla, CA 92037
7. JRDN
A more casual restaurant on this list is JRDN located in the Pacific Beach neighborhood of San Diego. JRDN is located inside the Tower 23 Hotel and has great views of Pacific Beach. JRDN can be found right in the center of the Pacific Beach boardwalk with direct views of the Pacific beach pier. Most likely all the best sunset pictures you have seen with a pacific beach Geotag are taken at the PB pier, because it is without a doubt the most scenic location in all of the Pacific Beach neighborhood of San Diego.
Location: 723 Felspar St, San Diego, CA 92109
8. The nolen
The Nolen is a rooftop lounge/bar in Downtown San Diego. It has a really beautiful and stunning view of the city. If you are looking for an amazing place to eat with great views, this is the place for you!
The restaurant has been around since 2013. They offer American cuisine and also have a bar on site. The food that they serve is delicious and their service is outstanding.
Location: 453 6th Ave San Diego, CA 92101
9. Il Fornaio Coronado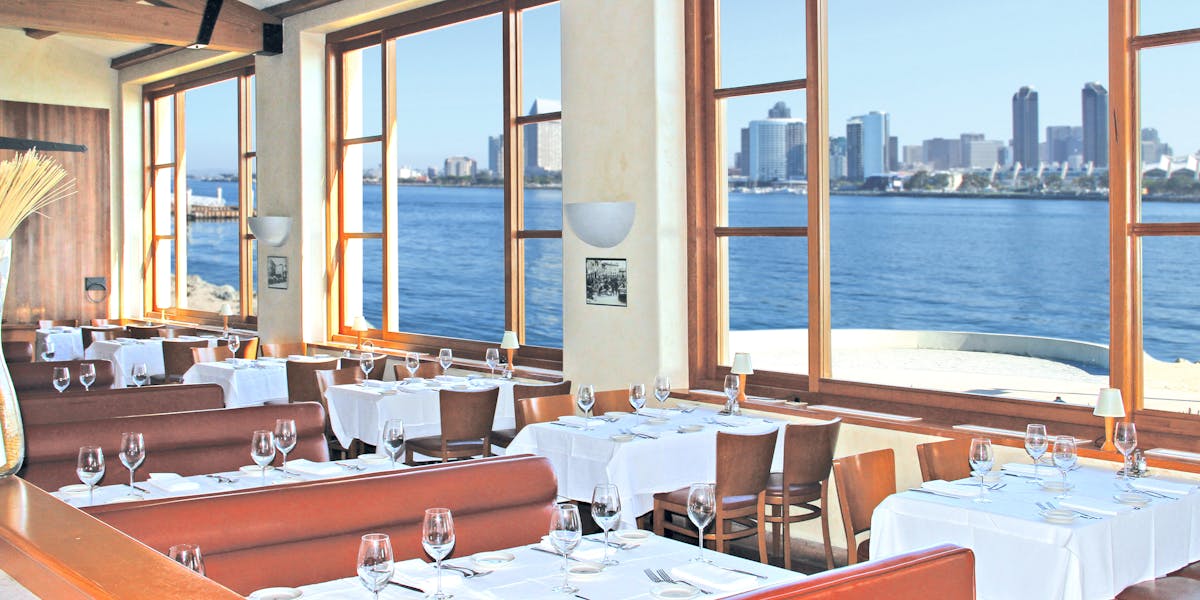 Coronado is one of the prettiest island areas in California and with such noterietay there should be a restaurant to capture that beauty. Il Fornaio is a fine dining Italian food chain, but the views reflecting from Coronado back towards the San Diego Bay are truly beautiful.
Location: 1333 1st St, Coronado, CA 92118
10. Cannonball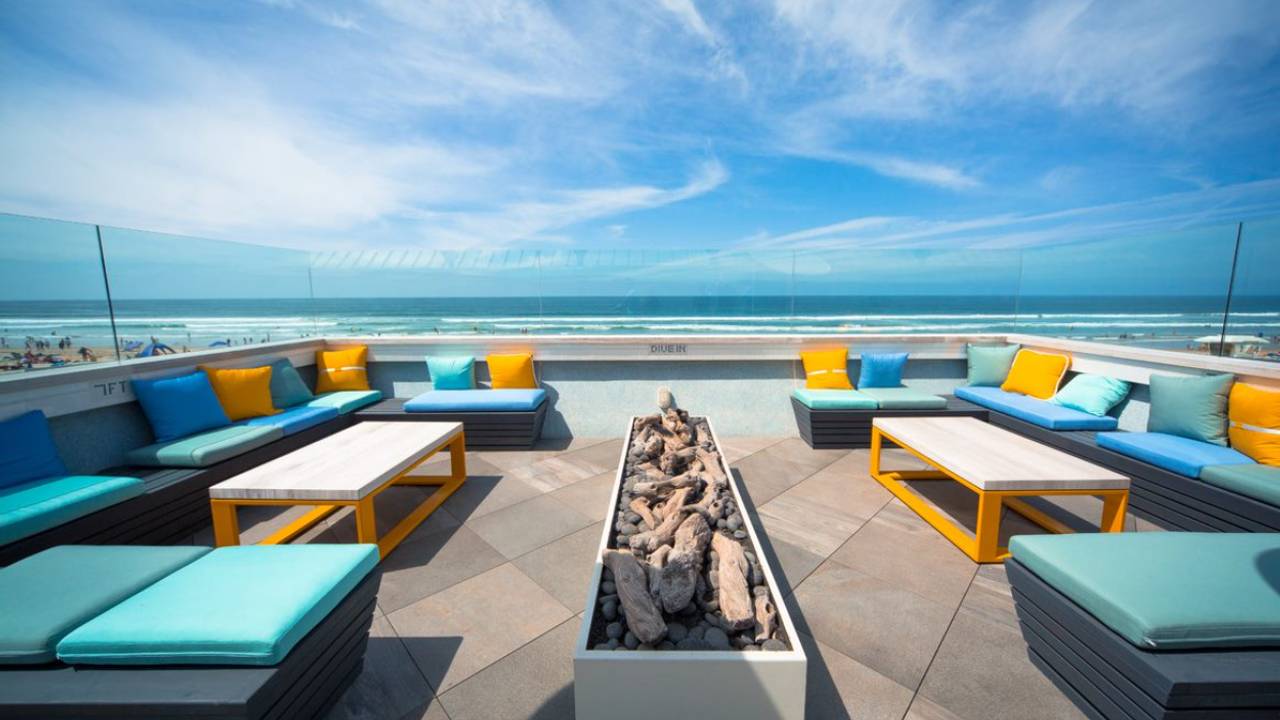 Cannonball has one of the largest rooftop dining areas in all of San Diego, and is located on the beachfront in Ocean Beach. This is one of the more casual eateries on this list. the sushi menu is one of the most coveted in the county though, and be sure to catch their acoustic music sunset every Thursday!
Location: 3105 Oceanfront Walk, San Diego CA 92109
San Diego restaurants with views faq
Are the restaurants in San Diego with the best views expensive?
The short answer to this question is yes. If you want the best views in San Diego coupled with an elegant dining experience, typically you will be paying a premium. The price of entrees for most of these restaurants will average from $25 to $60 dollars and $10 dollars for cocktails.
Do I need to have a reservation to dine at the restaurants with the best views in San Diego?
While we recommend having a reservation to dine at any of these restaurants as they can get very busy, it is not absolutely necessary. Most of these restaurants will take walk-ins, but you could be waiting a very long time for a table or even simply get turned away.