The 15 Best Bars in Pacific Beach
The Pacific Beach neighborhood is one of the best destinations in the world if you are looking to have an epic bar experience. Pacific beach is located right on the ocean, with more bars per square mile than any other place in San Diego. For this reason, no matter the day of the week the party scene is happening in Pacific Beach (although Taco Tuesdays and weekends will be the most lively). As someone who personally lived in PB for many years I have been to every bar in Pacific Beach and am here to give you the rundown on the top picks for bars in Pacific Beach.
1. Mavericks beach club
Maverick's beach club is the newest and hottest bar and restaurant in Pacific Beach. No matter the time of day or week, you will find the scene at Maverick's happening. Maverick's is actually the #1 destination that people get ride-shares to in PB if that explains anything. Maverick's has more of an upscale trendy vibe than many of the other more dive-bar like locations in PB. Sunday brunches at Maverick's are a favorite for many locals. If you decide to come to Maverick's at night expect to have this place completely PACKED. Lines will be very long and expect a wait on the weekends. Maverick's boasts multiple rooms and bars so lines to get a drink never get too long. From the upstairs dance floor to the outdoor area with multiple games to play, Maverick's is a must for a visit to Pacific Beach.
Location: 860 Garnet Ave, San Diego, CA 92109
Website: maverickssd.com
Hours: Sun 9AM-12AM | Mon-Wed 4PM-2AM | Thur-Fri 12PM-2AM | Sat 9AM-2AM
2. backyard kitchen and tap
Backyard was the old reigning champion as the hottest bar in PB before Maverick's was built right next door. But don't let this fool you Backyard will still be packed on a weekend as well. Just like Maverick's the line for Backyard will be extremely long on any weekend night. We suggest going with a local, as locals will get shorter lines and free entry, but you will need to show an ID with a Pacific Beach address. There is one mega bar in the middle of venue with a lot of bartenders and a more low-key bar in the back of the venue. Expect many people on the dance floor on a weekend night. If crowds give you anxiety we suggest another location on our list as there will be little room outside the dance floor on a busy night. Backyard is also a restaurant and expect many locals to come here in the day to watch football and get a drink at one of their favorite bars.
Location: 832 Garnet Ave, San Diego, CA 92109
Website: backyardpb.com
Hours: Sun 10AM-12AM | Mon 4PM-10PM | Tues 4PM-2AM | Wed CLOSED | Thur 4PM-2AM | Fri 12PM-2AM | Sat 10AM-2AM
3. waterbar pacific beach
Waterbar has one of the best (if not the best) views in all of Pacific Beach. Just like most other bars in Pacific Beach, Waterbar is a bar/restaurant in the day and turns into a club in the night. Waterbar has a clear view of the famous Crystal Pier in Pacific Beach, known being a scenic location in San Diego perfect for sunsets in San Diego, and photoshoots in San Diego as well. Waterbar only has one bar area, although large when it is crowded it can take a while to get a drink. The decor of Waterbar perfectly matches the location with dark wood and blue complements to really have that beach feel. If views are a priority for your bar experience we think Waterbar is the best for this in PB.
Location: 4325 Ocean Blvd, San Diego, CA 92109
Website: waterbarsd.com
Hours: Sun 9AM-12AM | Mon-Thur 11AM-12AM | Fri 11AM-2AM | Sat 9AM-2AM
4. the local Pacific beach
The Local is the first bar on our list that won't be extremely packed most nights. Don't get me wrong this place will be far from empty, but locals prefer this place for this reason. Deals here are also amazing and I highly recommend coming for happy hour as you will find some amazing prices. The Local has both an upstairs and a downstairs allowing ample room to have fun as well as not too congested when looking to get a drink. The local is located right across the street from the beach and is a little out of the way of the main street of Garnet so vibes can be a little mellower over here.
Location: 809 Thomas Ave, San Diego, CA 92109
Website: thelocalpb.com
Hours: Sun 10AM-12AM | Mon-Tues CLOSED | Wed-Thur 4PM-2AM | Fri 12PM-2AM | Sat 10AM-2AM
5. duck dive
Duck Dive is another very happening bar in Pacific Beach, where most day you can expect a large crowd as well. The best day for Duck Dive is on Tuesday nights where you can find 2 dollar drink specials, and for this reason Tuesdays are LIT here. The reason for this is Tuesday in Pacific Beach is known as taco tuesday and along with drinks you will find deals on tacos at most bars in PB. Duck Dive is also a favorite for Sunday football watching for locals. If you do go on Sunday the Bloody Mary's are spectacular. Duck Dive is on Mission Blvd, which is one of the two streets that run along the coast in Pacific Beach.
Location: 4650 Mission Blvd, San Diego, CA 92109
Website: theduckdive.com
Hours: Sun 9AM-11PM | Mon-Thur 10AM-11PM | Fri 10AM-12PM | Sat 9AM-12AM
6. el prez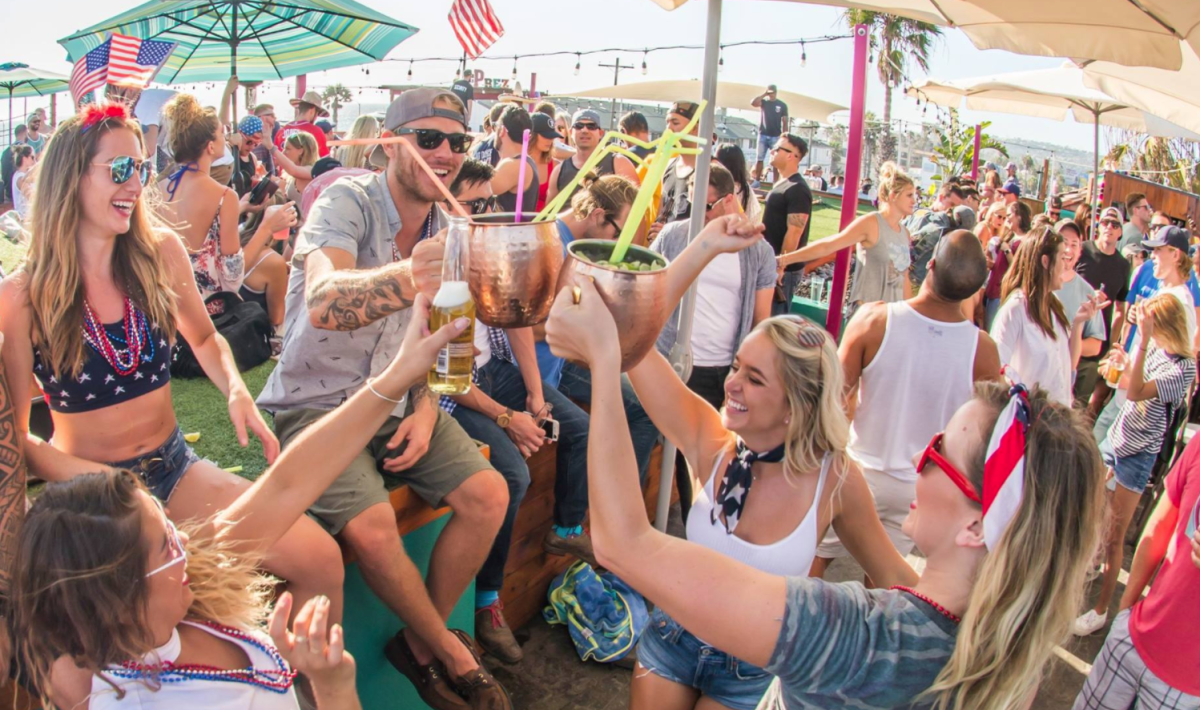 If views are important to your bar experience in Pacific beach, then you definitely have to check out El Prez as well. El Prez is three stories and directly overlooks the ocean and Crystal Pier. If you have friends that you have seen at a Bar in PB having drinks of a rooftop, then no doubt they were at El Prez's iconic rooftop bar. El Prez is probably the most happening spot in PB when it comes to day drinking. As the name suggests El Prez is Mexican themed and serves delicious Mexican food along with some great margaritas.
Location: 4190 Mission Blvd, San Diego, CA 92109
Website: elprezpb.com
Hours: Sun 10AM-12AM | Mon-Thur 12PM-12AM | Fri 12PM-2AM | Sat 11AM-2AM
7. moonshine beach
Moonshine Beach is definitely the largest bar in Pacific Beach and is known for country music and line dancing. Moonshine has three bar areas and a massive dance floor. Moonshine will definitely have a lot of people on most nights, but it never gets too packed due it's sheer size. If a western country music vibe is what you like, then Moonshine is the place for you. Most other bars in PB, will have a soundtrack of rap or top pop songs. Moonshine also has a large game area to play games like cornhole, ping pong, jenga, and more. One negative of Moonshine is it is actually quite far from the beach relative to the rest of the bars on this list (about a mile walk).
Location: 1165 Garnet Ave, San Diego, CA 92109
Website: moonshinebeachsd.com
Hours: Sun-Mon CLOSED | Tues 5PM-1AM | Wed CLOSED | Thur 5PM-1AM | Fri-Sat 5PM-2AM
8. pacific beach alehouse
AleHouse is located right in the center of the Pacific Beach bar scene on Grand and Mission. AleHouse during the day is a great restaurant to grab a beer and some wings. At night it comes alive and both of Ale House's levels are usually very crowded with party goers.
Location: 721 Grand Ave, San Diego, CA 92109
Website: pbalehouse.com
Hours: Sun 9:30 AM-12AM | Mon-Wed 11AM-12AM | Thur-Fri 11AM-2AM | Sat 9:30 AM-2AM
9. firehouse
Some bars in Pacific Beach have certain days where everyone knows that is the place to go on that specific day. For Firehouse this is Sunday, and specifically Sunday night. Sunday nights are absolutely happening at Firehouse, with long lines and a packed venue. Just like most other bars regardless of the day you will usually find Firehouse full of life as well. Firehouse has two levels, with the top level overlooking the ocean. .
Location: 722 Grand Ave, San Diego, CA 92109
Website: firehousepb.com
Hours: Sun 10AM-12AM | Mon-Wed 11AM-12AM | Thur-Fri 11AM-2AM | Sat 10AM-2AM
10. shore club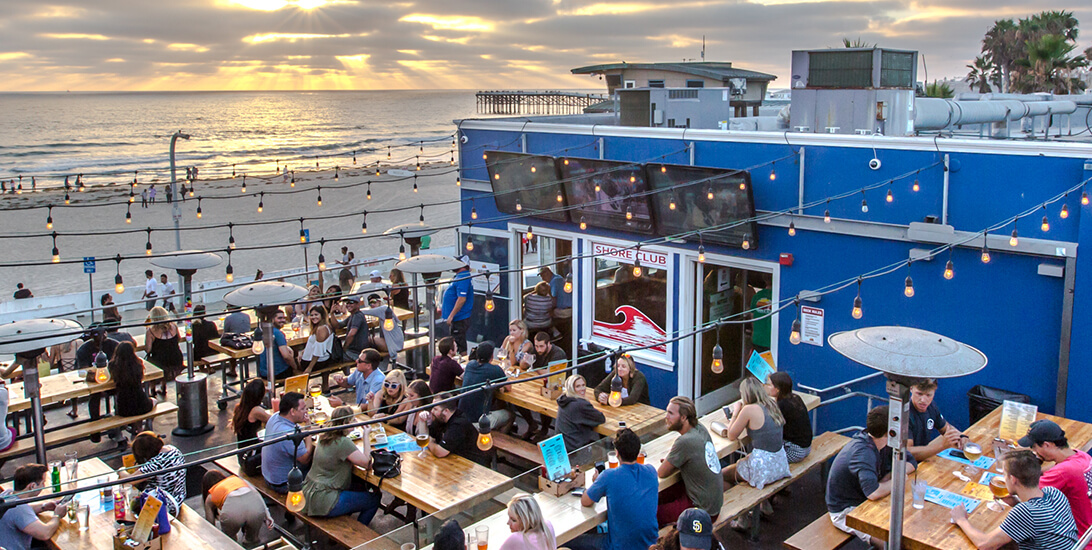 If you are looking for a true dive bar experience then without a doubt Shore Club is the spot. Shore Club is right on the ocean and has great views. Like I said certain days are attributed to certain bars in Pacific Beach and for shore club this is Wednesday where there are goldfish races with 5 dollar drink specials. Goldfish racing after a few drinks is quite exhilarating and what could be more San Diego than racing goldfish on the ocean.
Location:  4343 Ocean Blvd, San Diego, CA 92109
Website: pbshoreclub.com
Hours: Sun 9AM-2AM | Mon-Fri 11AM-2AM | Sat 9AM-2AM
11. cabo cantina
Similar to Shore Club if you are looking for dive bar vibes, then Cabo Cantina is great. Cabo Cantina is the home of huge Margaritas and also a place you will find packed with football lovers on Sundays. Due to the Mexican theme Cabo Cantina is another favorite for locals on Taco Tuesdays. The happy hour here is also great with 2 for 1 everything from 4 to 8. What you sacrifice in proximity to the ocean with this PB staple is amazing deals.
Location: 1050 Garnet Ave, San Diego, CA 92109
Website: cabocantina.com
Hours: Sun 10AM-12AM | Mon-Fri 12PM-12AM | Sat 11AM-12AM
12. tavern at the beach
Tavern is another staple of the Pacific Beach neighborhood. On the weekdays many locals come to tavern for their great drinks specials and not to mention happy hour until 7pm! On the weekends like most bars in Pacific Beach expect to find tavern very crowded, but still a fun time with a great mix of locals and tourists. Tavern is also very well known as a popular spot to watch footballs on Sunday in PB.
Location: Location: 1200 Garnet Ave, San Diego, CA 92109
Website: tavernatthebeach.com
Hours: Sun 12PM-2AM | Mon-Fri 2PM-2AM | Sat 12PM-2AM
13. the grass skirt
The Grass Skirt has a different vibe than the rest of the bars on this list, as it is not as much of a wild party spot. The Grass Skirt is the only speakeasy in Pacific Beach without a secret entrance inside an ice cream shop. I'll be honest the first time I went here I wasn't able to find the entrance and went somewhere else. But am I glad I came back another time, because the Mai Tai's are amazing here. The Polynesian decor of this place is amazing and is definitely a must try for anyone visiting Pacific Beach.
Location: 1200 Garnet Ave, San Diego, CA 92109
Website: thegrassskirt.com
Hours: Sun 5PM-12AM | Mon-Wed 5PM-11PM | Thur-Sat 5PM-12AM
14. thrusters
Thruster's is definitely the smallest bar on this list, but a favorite of many locals. This dive bar is the favorite choice of many local San Diego surfers and skaters and on any given night you may see a few pros enjoying a drink. The dance floor here on a weekend night will get pretty crowded as well as the smaller bar area. One awesome thing about Thruster's is the ski-ball machine, as nothing goes better than ski-ball and whiskey in my opinion.
Location: 4633 Mission Blvd, San Diego, CA 92109
Website: thrusterslounge.com
Hours: Sun 3PM-2AM | Mon-Thur 5PM-2AM | Fri-Sat 3PM-2PM
15. JRdn
JRDN is located inside the Tower 23 hotel and is without a doubt the most upscale bar in the Pacific Beach area. If crowded rooms and with young and loud patrons isn't for you, then JRDN is your only option in Pacific Beach. If you are looking for a mostly upscale environment in a San Diego beach neighborhood then we recommend checking out the best bars in La Jolla.
Location: 723 Felspar St, San Diego, CA 92109
Website: t23hotel.com/jrdn
pacific beach bar faq
Are bars in Pacific Beach within walking distance of each other?
Yes all the bars in Pacific Beach are within walking distance! It is common when going out in Pacific beach to bar hop to all your favorite spots in a single night. Whether you are visiting or a resident we highly recommend trying out multiple spots on our list as they are all walkable from one place to the next.
What is the average price of a drink in Pacific Beach?
Drink prices vary from one location to the next, but expect to pay between 5$ to $12 depending on location and day of the week. Drink specials are very common in Pacific Beach so prices may be cheaper depending on if the location is running a special so make sure to ask!
Are all bars in Pacific Beach located on the beach?
No, not all bars are located on the beach. All bars are within walking distance of the beach, but only bars located on Mission Blvd. will be considered on the beach.